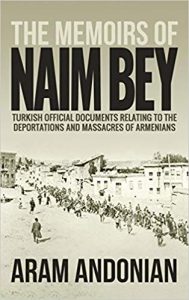 Buy on Amazon
Buy in Bulk – 20% off retail when you buy 100 or more copies.  Click here for more details.
Aram Andonian did a service to humanity by tracking down Naim Bey and acquiring primary sources related to the Armenian genocide. During the genocide, Naim Bey, a Turk, had been the chief secretary of the Deportations Committee of Aleppo. By virtue of this station, Naim Bey was not just an eyewitness to the events that unfolded around him, but someone who was privy to the actual telegrams that carried the orders for the brutal extermination of the Armenians. The reproduction of these documents, telegrams, and decrees are valuable additions to the historical record. Naturally, there is controversy about the authenticity of these records. In this edition, the reader is able to assess the authenticity for themselves.
This edition is not an OCR (optical character recognition) scan, nor is it a facsimile. It has been carefully reconstructed from a facsimile of the original 1920 manuscript, striving to ensure accuracy. As such it incorporates corrections listed in the 1964 reprint of "The Memoirs" by the Armenian Historical Research Association. The 1964 reprint included other photos of the genocide which had not originally been included by Aram Andonian, but are appended to this edition, as a vivid, visual testimony to what happened to the Armenians about fifty years prior to the reprint.